Try Something From Our Menu
Appetizers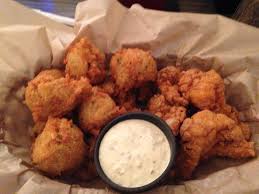 Grouper Bites
$14.95
The Gulf of Mexico's finest! Bite size, deep fried and served with your choice of dipping sauce.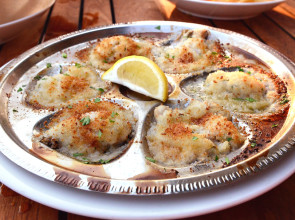 Baked Oysters
$12.95
The best oysters available, freshly shucked. Your choice of Classic Rockefeller or 3 Cheese topping. Baked to order.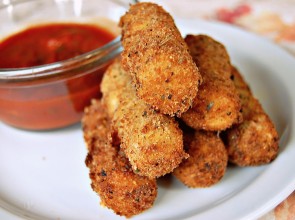 Mozzarella Cheese Sticks
$8.95
Buffalo mozzarella cheese, deep fried and served with choice of marinara sauce or ranch dressing.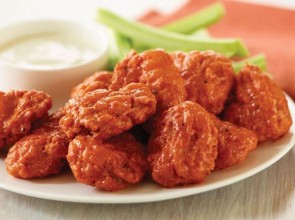 Harry's Boneless Buffalo Wings
$7.95
10 pieces served Classic, Medium, Hot, Buffalo Ranch, Honey BBQ or Chipotle style. Choice of Ranch or Blue Cheese for dipping.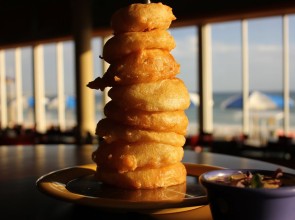 Fried Onion Tower
$8.95
You have to see it to believe it. A tower of Onion Rings, with dipping sauce included.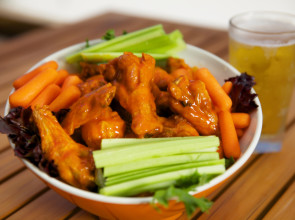 Harpoon Harry's World Famous Jumbo Wings
$10.95
10 pieces served Classic, Medium, Hot, Buffalo Ranch, Honey BBQ or Chipotle style. Choice of Ranch or Blue Cheese for dipping.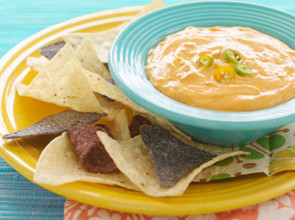 Harry's Cheesy Seafood Dip
$9.95
An extra cheesy dip with shrimp and scallops topped with Parmesan cheese and served with warm tortilla chips.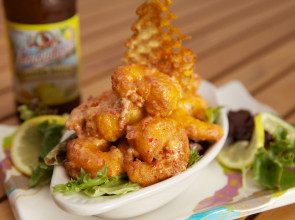 Firecracker Shrimp
$11.95
Crispy fried Jumbo Shrimp, tossed in our Homemade Spicy Sauce.
Spicy Sweet Fried Pickles
$6.95
Crispy sweet pickles with a spicy little kick.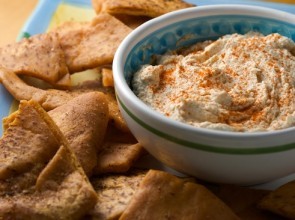 Smoked Ahi Tuna Dip
$12.95
Fresh Yellowfin Tuna smoked and blended with our own seasonings, served with warm tortilla chips.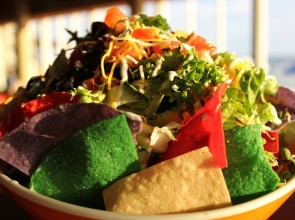 Harry's Mega Nachos
$9.95
Warm tortilla chips, loaded with chili, cheese, tomatoes, lettuce, onions, jalapeno peppers and black olives.
Salads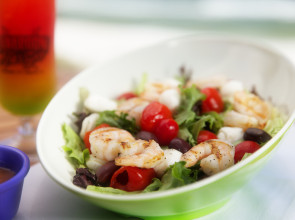 Greek Salad
$9.95
Lettuce, cucumbers, tomatoes, Feta cheese, Greek olives and peppers served with our own Greek dressing. Add shrimp or crab meat for $6.95.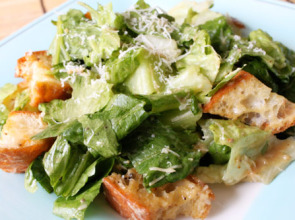 The Classic Caesar
$9.95
Chopped to order, crisp romaine lettuce, shredded Parmesan cheese and homemade croutons tossed in our classic Caesar dressing. Add Chicken, Shrimp or Steak for $3.95 more.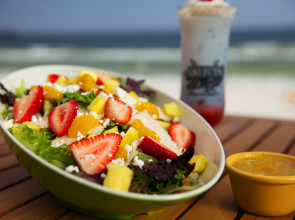 Tropical Chicken Salad
$14.95
Grilled chicken breast over mixed greens and served with pineapple, strawberries, mandarin oranges and fresh goat cheese. Tossed with a tropical vinaigrette.
Burgers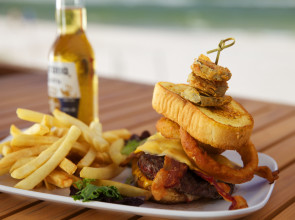 Harry's Monster Bacon Cheese Burger
$14.95
A half-pound certified Angus burger, three giant strips of applewood smoked bacon and three types of cheese on Texas toast. The biggest burger on the beach.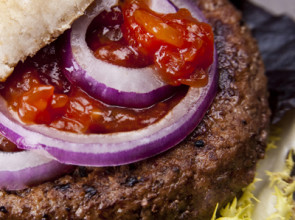 Harry's Classic Burger
$11.95
A half pound of Certified Angus beef, served with leaf lettuce, tomato and sliced red onion with your choice of cheese.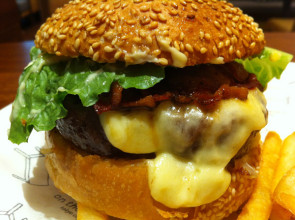 Build Your Own Burger
$11.95+
Add any of the following to our Classic Burger for $1.50 each: Applewood Smoked Bacon, Sauteed Mushrooms, Lettuce, Fried Pickles, Grilled Onions, Grilled Pineapple, Jalapenos, Avocado.
Sandwiches
Philly Steak & Cheese
$11.95
Shaved Certified Angus beef topped with grilled onions, green peppers and finished with melted cheddar cheese.
Harry's Fish Tacos
$12.95
Two Mahi Mahi tacos topped with our mango slaw and island cilantro. Have them grilled, blackened, or fried.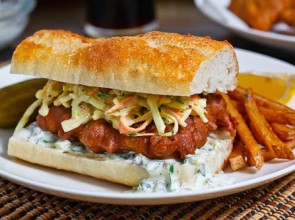 Caribbean Fish Sandwich
$12.95
A generous portion of North Atlantic cod, beer battered, fried and served on a toasted bun with our Caribbean sauce.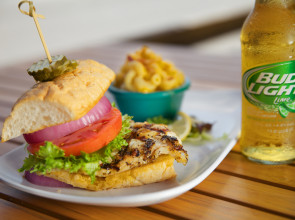 Grouper Sandwich
$18.95
Panama City Beach's traditional filet of grouper sandwich served fried or grilled on French Bread.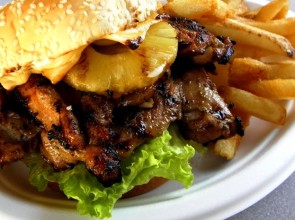 Island Grilled Chicken Sandwich
$11.95
Mouth watering chickem breast with grilled pineapple and our homemade Island Sauce.
Seafood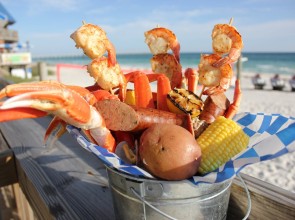 Harry's Special Seafood Bucket
$37.95
Snow Crab legs, Jumbo Shrimp, Baby Clams, Sea Scallops, Andouille Sausage, boiled red potatoes and sweet corn on the cob. For Two - $69.95.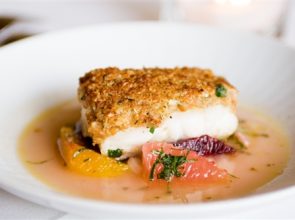 Grouper Filet - Market Price
The best of the catch! Fresh filet of Gulf Grouper, grilled, blackened or fried to a perfect golden brown.
Harpoon Harry's Special Crab Cakes
$21.95
Lump crab meat seasoned, formed and lightly dusted with our special seasoning, pan sauteed and served with our signature Bay Sauce.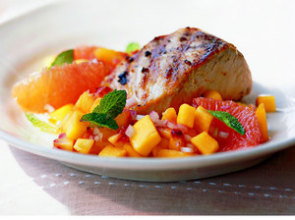 Grilled Mahi Mahi
$19.95
Fresh filet, grilled and topped with our mango salsa.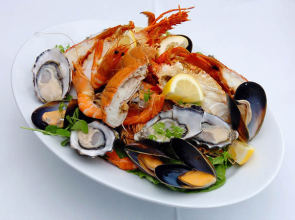 Harry's Special Seafood Platter
$27.95
A generous sampling of our famous platter. Fresh fish, shrimp, scallops, oysters and stuffed crab, hand-breaded and perfectly fried or oven baked.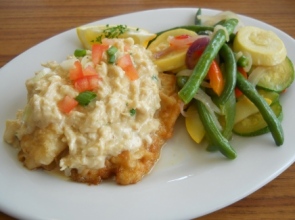 Grouper Imperial
$28.95
Fresh Gulf Grouper filet, char-grilled and topped with jumbo crabmeat and a citrus beurre blanc. Unforgettable!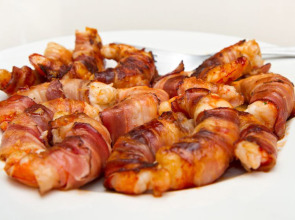 Shrimp, Shrimp and Shrimp!
$24.95
Bacon-wrapped Jumbo Shrimp, Fire Cracker Shrimp, and our Peel and Eat Shrimp for good measure.
Fried Gulf Shrimp
$19.95
Jumbo Gulf shrimp, hand breaded and fried to golden perfection!
Steaks / Chicken / Pasta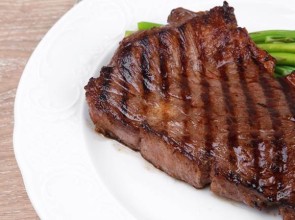 K.C. Strip
$22.95
Just a smaller cut of the steak lover's favorite, 10 oz.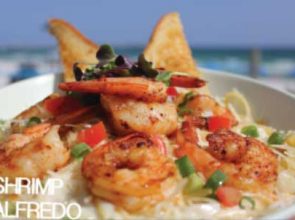 Shrimp Alfredo
$19.95
Jumbo shrimp sauteed then blended with a delicate Parmesan cheese cream sauce. Served over a bed of Fettucine.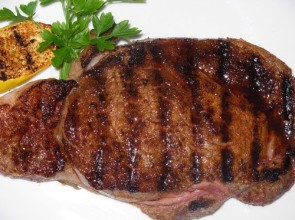 Delmonico Rib Eye
$24.95
Certified Angus beef, the favorite steak of the south 12oz. Add 5 Jumbo Gulf Shrimp 5.95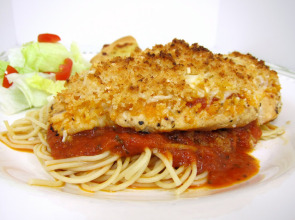 Parmesan Crusted Chicken
$19.95
Pan fried breast of chicken, crusted with freshly grated Parmesan and topped with a sweet basil tomato sauce and served over the pasta of the day.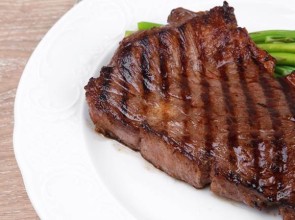 New York Strip
$32.95
A 16 oz. Certified Angus Beef sirloin. The real steak lover's favorite!
Drinks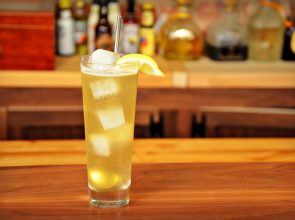 7 Seas Lemonade
$9.00
Pinnacle whipped vodka, blue curacao, orange liquor, sweet & sour and a splash of Sprite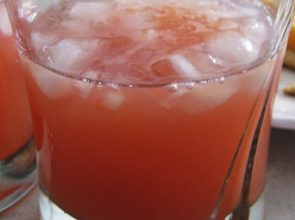 Absolute Stress
$9.00
Absolute vodka, coconut rum, peach schnapps, orange & cranberry juice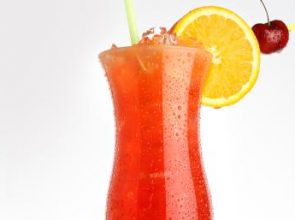 Harry-Cane
$9.00
Light rum, dark rum, pineapple & orange juice, drizzle of grenadine topped with a 151 rum floater
Poon's Rum Runner
$9.00
Light rum, dark rum, banana & black raspberry liquor, sweet & sour, Sprite and grenadine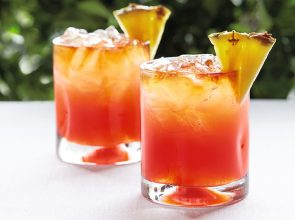 Bahama Mama
$9.00
Light rum, coconut rum, banana liquor, pineapple & orange juice with grenadine
Sex on the Beach
$9.00
Vodka, peach schnapps, melon liquor, orange, pineapple & cranberry juice
Peach Watermelon
$9.00
Mango Blue Rasberry
$9.00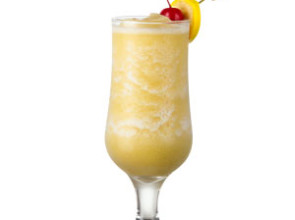 Margarita Banana
$9.00
Pina Colada Strawberry
$9.00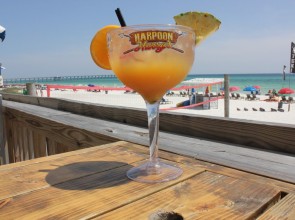 The Monster 42oz Harpoon!
$20.00
Light rum, dark rum, sweet and sour, orange and pineapple juice all mixed together to form the biggest drink on the beach! You get to keep the glass.
Desserts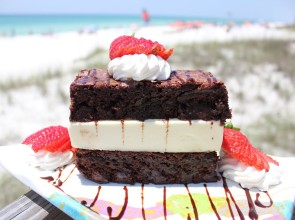 Not Your Mama's Ice Cream Sandwich
$5.95
Exactly what it sounds like. A giant ice cream sandwich that takes two to eat!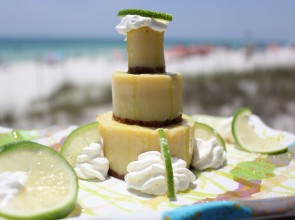 Key Lime Tower
$5.95
A towering portion of key lime pie topped with a lofty whipped cream crown and lime zest.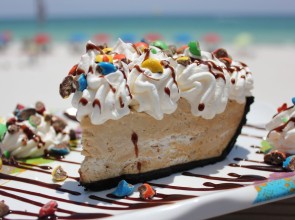 Peanut Butter Pie
$5.95
Light fluffy peanut butter pie with Oreo shell and topped with crushed M&Ms.